See more photos from the Awards Dinner
Ruby McKnight Williams, for whom the annual dinner and award were named, served Pasadena for over 50 years.  Her achievements were many and she received countless awards for her tireless efforts in serving our community.
Mrs. Williams' greatest service was to the Pasadena NAACP Branch.  She served as branch president in 1959, 1960, 1969, and into the 1970's.  During this period, the branch supported two national precedent-setting civil rights cases.
In 1958, the Pasadena NAACP determined that in her honor an award should be given to those who demonstrate excellence in community service.  In 1983, in recognition of Mrs. Williams' dedicated service to the cause of civil rights and human dignity, she was given the honor of President Emeritus.
34th Annual Ruby McKnight Williams Award Winners
Ruby McKnight Williams Award – Arzella Valentine, Woods-Valentine Mortuary
Arts Award – Floyd Norman
Community Award – Pablo Alvarado, Pasadena Community Job Center
Education Award – Dr. Yahia Abdul-Rahman, Author, Founder of Muslim Schools
Youth Award – Jordan Patton, ACT-SO Silver Medalist, Original Essay
Civic Award – Philip A. Washington, CEO, LA Metro
President's Award – Laura Farber, Tournament of Roses, President
Corporate Award – Kaiser Permanente, School of Medicine
Small Business Award – Little Red Hen, Barbara Shay, CEO
Faith/Cultural Award – Imam J.D. Hall, Actor
Faith/Cultural Award – Bryan Takeda, Pasadena Japanese Cultural Center
Faith/Cultural Award – Rabbi Marvin Gross, Retired CEO, Union Station
Faith/Cultural Award – Rev. Kerwin Manning, Pasadena Church
John Wright Leadership Award – Joe Brown, Past NAACP President, Community Leader
The 34th Annual Dinner was held at the Pasadena Hilton on October 3, 2019.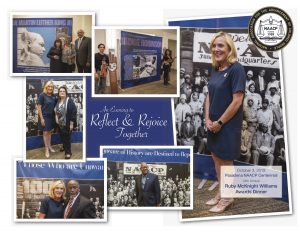 Program Book of the 34th Ruby McKnight Williams Awards