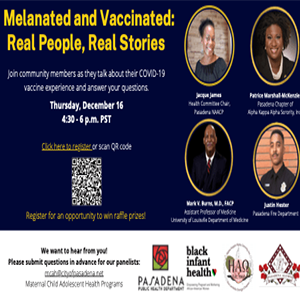 Melanated and Vaccinated: Real People, Real Stories
Please join the Pasadena Public Health Department for a virtual community panel reflecting on their experiences with the COVID-19 vaccine.
Register Here: https://www.eventbrite.com/e/melanated-vaccinated-real-people-real-stories-registration-198531381707
About this event
Panelists from Melanated & Vaccinated: Real People, Real Stories will address questions and concerns about the COVID-19 vaccine still prevalent in the African American community in effort to tackle misinformation and boost confidence in the safety and efficacy of the vaccines. Because African Americans tend to have more severe outcomes after being hospitalized with COVID-19, confidence in the vaccine is essential and will help save lives.
Our guest speakers Patrice Marshall-McKenzie, Justin Hester, and Dr. Mark Burns will share their first-hand experiences and decision-making journey related to the COVID-19 vaccine.
We invite and encourage you to submit any questions and/or concerns you have about the COVID-19 vaccine for the panelists to Claudia Pinedo at [email protected].
Please note: Individuals who pre-register for this virtual event by 5p.m. PST on Monday, December 13, 2021 will be entered into a raffle for prizes. Winners will be announced at the virtual event and must be present at the event to be eligible for the raffle. If you are not pre-registered and attend the event, you will not be eligible for the raffle.
Pre-registration is not required to attend this virtual event; simply join the Zoom link on Thursday, December 16, 2021 at 4:30 p.m. PST. This event will be recorded and be made available on the Pasadena Public Health Department website.
Zoom Information
Please click the link below to join the webinar:
Or One tap mobile:
US: +16699006833,,82255018080# or +12532158782,,82255018080#
Or Telephone:
Dial(for higher quality, dial a number based on your current location): US: +1 669 900 6833 or +1 253 215 8782 or +1 346 248 7799 or +1 301 715 8592 or +1 312 626 6799 or +1 929 205 6099
Webinar ID: 822 5501 8080
About our Facilitator
Jacque James is the Health Committee Chair of the Pasadena NAACP. She has served as the Chair for the past four years. During this time, the Committee, along with support of the branch and community leaders have hosted drive-thru flu vaccine clinics and food giveaways, provided 300 COVID-19 tests and over 1000 health services. The services ranged from mental health evaluations to health screenings. All of this took place in the rain. The Committee also hosted COVID-19 vaccination clinics and closed their service year by hosting one additional flu shot clinic.
Jacque has worked in the healthcare profession for over 25 years. She is a certified personal trainer and Pilates instructor. She loves learning about the human body and what fuels it. Jacque encourages everyone to embrace where they are today. Love yourself wherever you are on your journey. Stay actively committed and connected to your journey. Find your peace, find your flow.
About Our Panelists
Patrice Marshall-McKenzie is a graduate of the University of California at Berkeley with a degree in African American Studies and a Minor in Critical Pedagogy. She also holds a Master in Public Administration degree from the Marxe School of Public and International Affairs at Baruch College of New York. Patrice has more than 15 years of experience working with state and local government leaders including members of the California State Legislature and the Los Angeles Unified School District Board of Education. Her roles have centered around serving as a direct liaison and local spokesperson between key stakeholders and elected officials. She is astute in developing, growing and nurturing strategic partnerships and collaborations that advance issues and causes for all parties. Patrice is well-known for being resourceful and innovative in consensus building and convening groups with aligned interests. Patrice serves and leads in the greater Pasadena community through a multitude of volunteer and civic organizations including Alpha Kappa Alpha Sorority, Inc., Junior League of Pasadena, The LA Trust for Children's Health, National Women's Political Caucus – Greater Pasadena Area, LA County Democratic Central Committee, Mervyn Dymally African American Political & Economic Institute, IvyPAC, and the Los Angeles African American Women's Public Policy Institute (LAAAWPPI).
Justin Hester is a Firefighter Paramedic and has worked for the City of Pasadena Fire Department for nearly 13 years. He was born in Southern California and raised in Pomona. Justin is a husband and father of four children (18-year-old daughter, 5-year-old son, and twin 4-year-old girls). He is also the founding President of the Pasadena Black Firefighters Association, which is known as the Phoenix Society of Pasadena. Justin has been involved with several events throughout the City over the years and most importantly he has served on the frontlines at one of the busiest fire stations in the City as a medic during the pandemic. He is honored to take part in Melanated & Vaccinated and looks forward to sharing his knowledge and experience with the community.
Dr. Mark Burns is an Assistant Professor of Medicine at the University of Louisville. Dr. Burns specializes in infectious disease in Louisville, Kentucky and has over 33 years of experience in the field of medicine. He graduated from University of Louisville School of Medicine with his medical degree in 1988. Dr. Burns completed his residency at the University of Louisville Hospital, and his fellowship at the University of Louisville. He is board certified on the American Board of Internal Medicine – Infectious Diseases. Dr. Mark Burns' clinical expertise is in infectious diseases, and he specializes in the primary care of adults through diagnosis and treatment of a range of conditions affecting many organ systems. He is affiliated with numerous hospitals in
Kentucky, including University of Louisville Hospital. Dr. Burns is joining the panel at the invitation of the Pasadena Public Health Department Maternal Adolescent Child Health program staff.