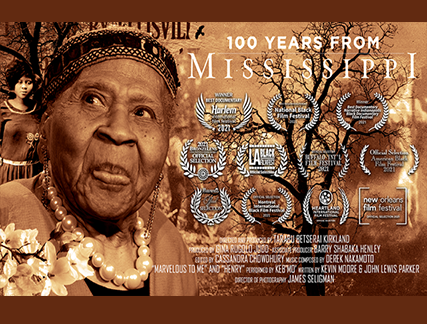 Film Screening: 100 Years From Mississippi
Friday, February 11, 2022, at 7:30 p.m. PT
This is a virtual, one-time screening!
100 Years From Mississippi is a true story of resilience, forgiveness, memory, and hope. Mamie Lang Kirkland still remembers the night in 1915 when panic filled her home in Ellisville, Mississippi. Her family was forced to flee in darkness from a growing mob of men determined to lynch her father and his friend. Mamie's family escaped, but her father's friend, John Hartfield, did not. He suffered one of the most horrific lynchings of the era. Mamie vowed to never return to Mississippi – until now. After one hundred years, Mamie's youngest child, filmmaker, Tarabu Betserai Kirkland, takes his mother back to Ellisville to tell her story, honor those who succumbed to the terror of racial violence, and give testimony to the courage and hope epitomized by many of her generation.
A live Q&A will follow with filmmakers Tarabu Betserai Kirkland and Barry Shabaka Henley, as well as, Caltech's Danielle L. Wiggins, Assistant Professor of History, Division of Humanities and Social Sciences
Link to film and Q&A will be emailed to all registrants 48 hours prior to event start time.
Registration is required. Click here to reserve your spot!