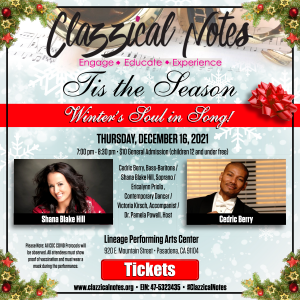 Clazzical Notes "Tis the Season" – Winter's Soul in Song!
Engage
• Educate • Experience

Tis
the Season
Winter
'
s
Soul in
Song
! 
THURSDAY, DECEMBER 16, 2021 7:00 pm – 8:30 pm – $10 General Admission (children 12 and under free) 
Cedric Berry, Bass-Baritone / Shana Blake Hill, Soprano / 
Ericalynn Priolo, Contemporary Dancer/ Victoria Kirsch, Accompanist / 
Dr. Pamela Powell, Host
Lineage Performing Arts Center – 920 E. Mountain Street • Pasadena, CA 91104
Please Note: All CDC COVID Protocols will be observed. All attendees must show proof of vaccination and must wear a mask during the performance. 
Tickets www.clazzicalnotes.org • EIN: 47-5323435 . #ClazzicalNotes