Resources to help you during this crisis
Following is a list of COVID-19 resources information provided to the Branch. If you have additional information that you would like to see added to this page, please email us at [email protected]
VACCINES

October 2021
To Schedule a COVID-19 Vaccine Appointment CLICK HERE
For More Information About COVID-19 Vaccines in Pasadena CLICK HERE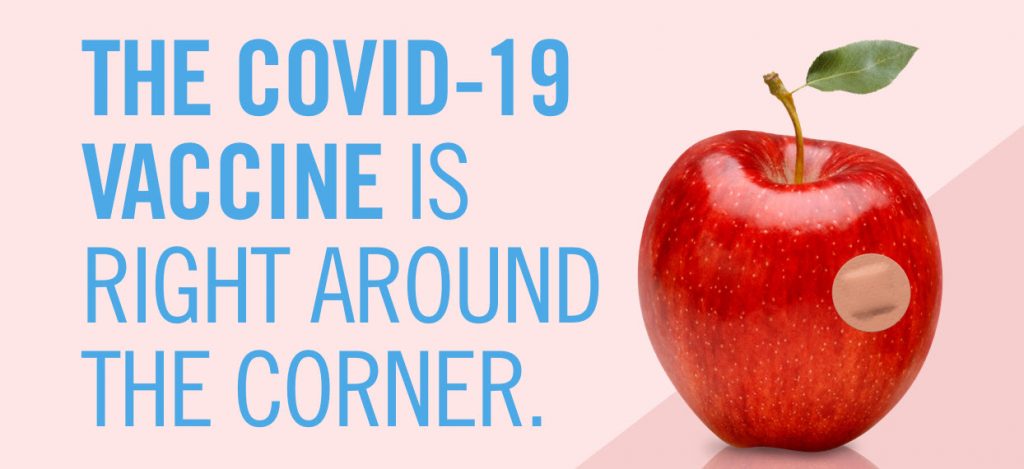 VONS recently sent an email with this message: "We know you're eager for information on COVID-19 vaccine availability and we are working hard to get the vaccine out to all of our pharmacies as quickly as possible." They included a link to more information on their website, where you can sign up for updates from them about vaccine availability.
Vons: https://www.vons.com/pharmacy/covid-19.html
Ralphs: https://www.ralphs.com/i/coronavirus-update/vaccine
CVS: https://www.cvs.com/immunizations/covid-19-vaccine
LA County: https://covid19.lacounty.gov/covid19-news/covid-19-vaccine-registration-open-for-la-county-residents-aged-65-and-older/
CA COVID-19 RENT RELIEF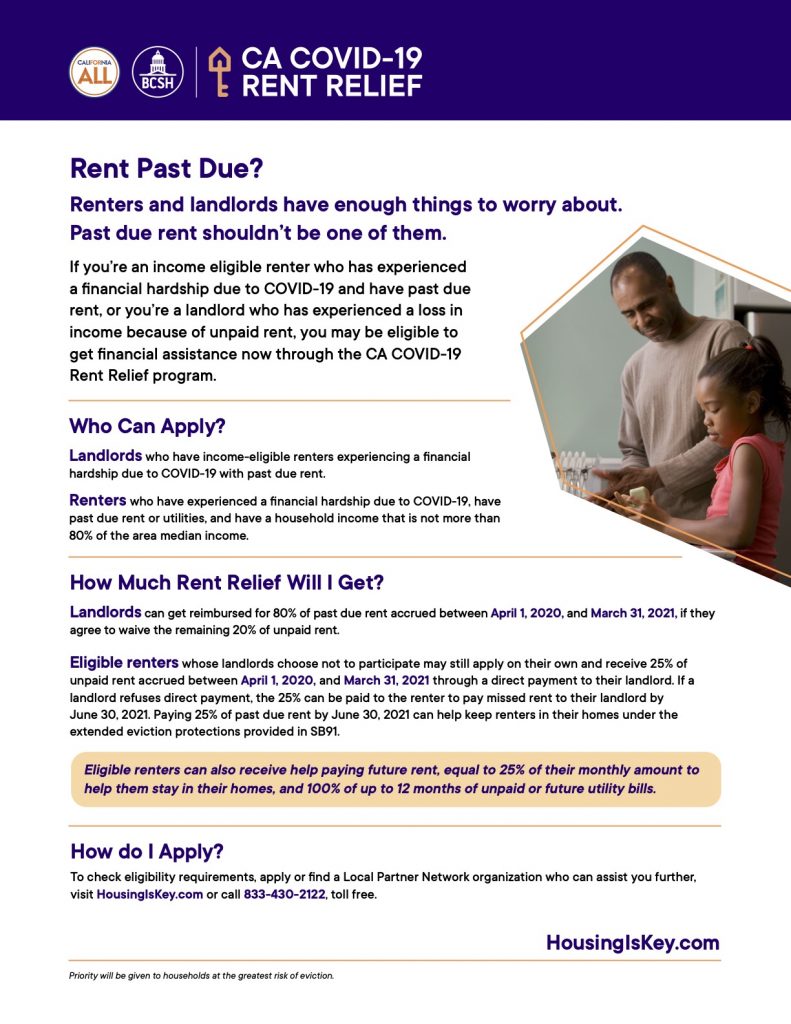 SMALL BUSINESS COVID-19 RELIEF
https://pasadenacf.org/…/pasadena-small-business…/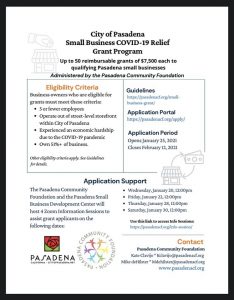 First AME Church "Feed My Sheep" Food Bank – Fridays 9 – 11 am, 1700 N Raymond Ave, Pasadena, CA 91103.  Please remember to wear masks and practice social distancing.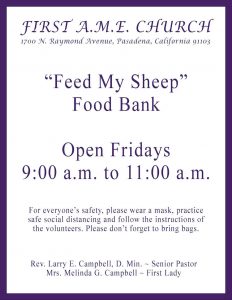 From Foothill Unity Center – During this health crisis, we give fresh produce & fruits, dairy products and other staples to anyone who needs it.  We even have diapers for infants and food for pets.  See below for the drive-thru distribution locations and times.  Have persons call if they need food delivered.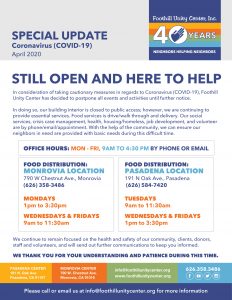 City of Pasadena Food Banks & Meal Programs
FREE COVID-19 TESTING at First AME Church of Pasadena
Register at http://bit.ly/aacec-famepasadena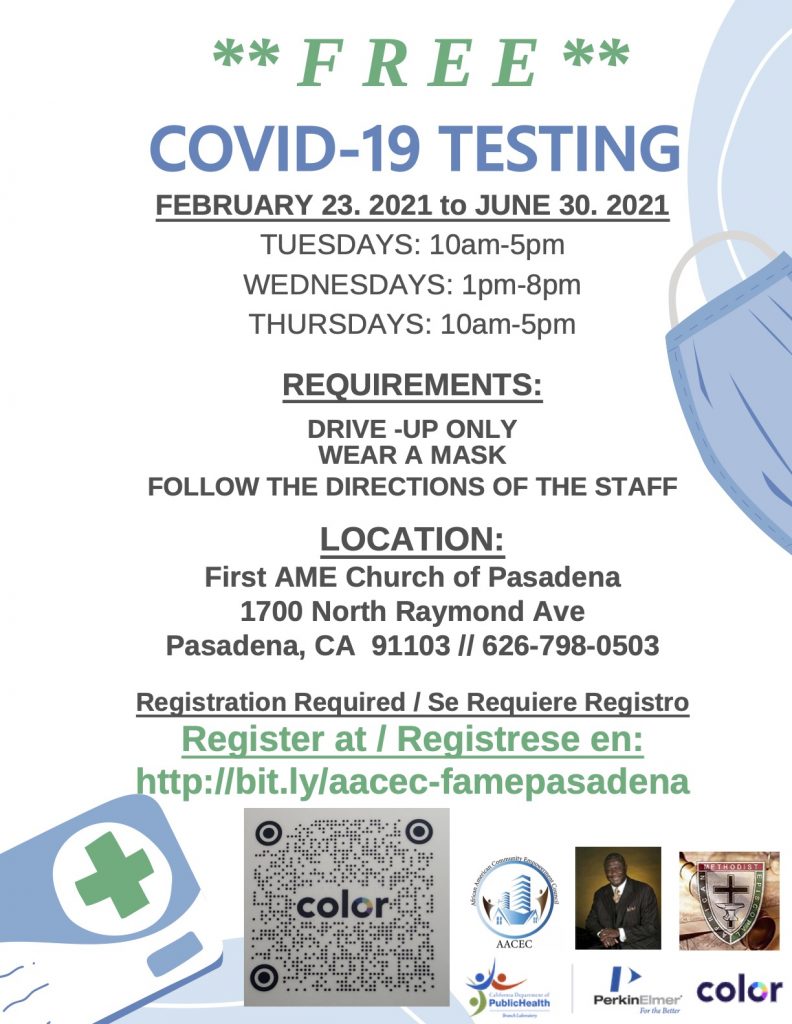 Testing is now open to all LA County residents, with priority given to those with symptoms, essential workers, people over 65 or have chronic underlying health conditions or people in institutional congregate living settings.  Pre-registration is REQUIRED.  To sign up and find locations, visit https://covid19.lacounty.gov/testing
Anyone uninsured and eligible to enroll in health coverage through Covered California can sign up for health plans through June 30.  In addition, the state has taken new steps to help make sign up easy so you can get immediate coverage.  Medi-Cal enrollment is year round.
All medically-necessary screening and testing for COVID-19 are free of charge.  All health plans available through Covered California and Medi-Cal offer telehealth options to minimize in-person medical visits at this time.
Those interested in enrolling in Covered California or Medi-Cal health plans can:
Visit www.CoveredCA.com.
Get free and confidential assistance over the phone, in a variety of languages, from a certified enroller.
Have a certified enroller call them and help them for free.
Call Covered California at (800) 300-1506.
Also, our very own Richard Horton is offering to enroll anyone interested and in need of health insurance, through phone and email.  His phone number is 949-226-4828.
The California EDD will begin paying an additional $600, with the extra money coming from the federal CARES Act.
Unemployment Information – CA Employment Development Department (EDD)
File an Unemployment Claim (CA EDD)
Frequently Asked Questions: CA EDD has an FAQ page that answers questions about
disability and paid family leave
unemployment benefits for self-employed, independent contractors, gig workers
possible benefits for those affected because of child care needs
employer information
As of March 17, 2020, the city of Pasadena enacted a moratorium on eviction for non-payment of rent by tenants impacted by the COVID-19 pandemic.  This prohibits landlords from evicting residential tenants for non-payment of rent due to financial impacts of COVID-19.  Please see details on the City's website.
City of Pasadena "Safer At Home: What You Need to Know"
City of Pasadena Face Covering Order
HOW TO PROTECT YOURSELF AND OTHERS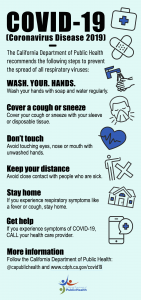 Covid19 Poster CA Public Health
COVID Prevention Guidelines from CDC
There are currently a lot of scams out there – attempts to sell you a bogus treatment or a false test, or attempts to obtain your credit or personal information.  Do not give anyone your personal information, and avoid any suspicious COVID-19 email or text links.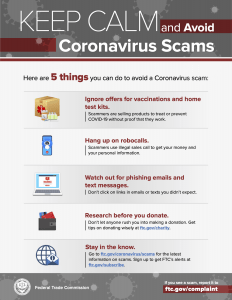 Anyone with information regarding a COVID-19 scam should call Pasadena Police at 626-744-4241.  If you wish to remain anonymous, call Crime Stoppers at 800-222-8477.
Additional detailed information was shared by the White House Director of Strategic Partnerships & African American Outreach.  This details page contains links to many federal government resources.