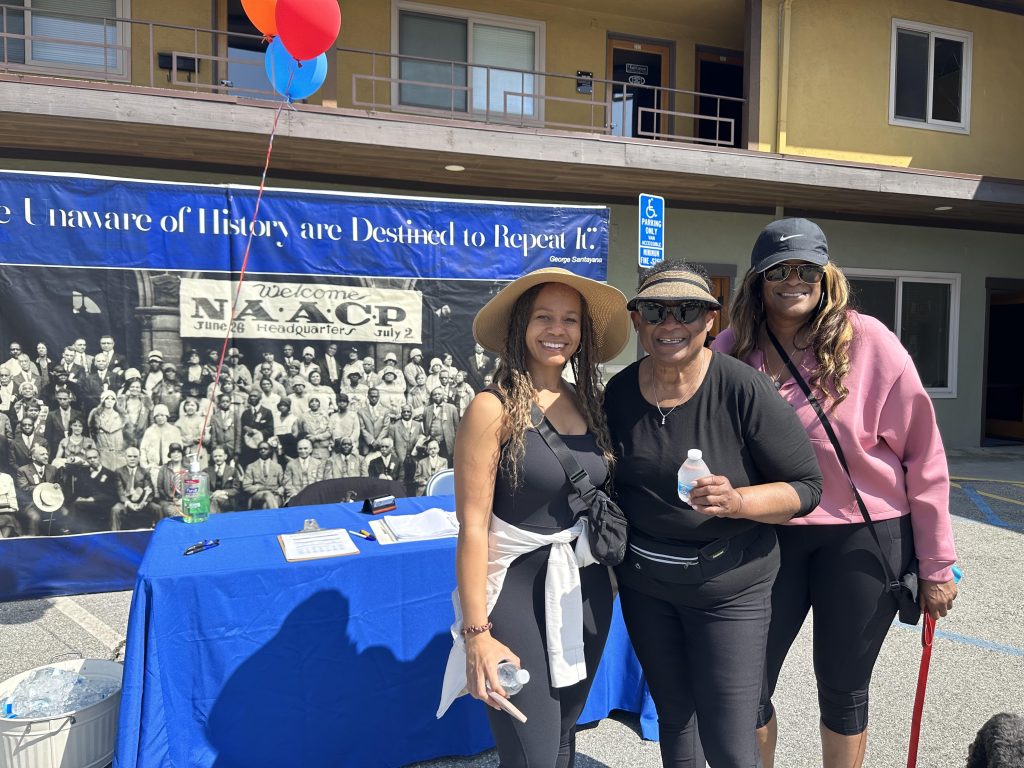 Community members in front of NAACP headquarters before the ride. (Denver Mackey/L.A. Sentinel)
This past weekend, on Saturday, May 13, Active San Gabriel Valley organization hosted an African American History bike ride, highlighting the many landmarks and stories of the rich Black History of Pasadena. Led by NAACP Pasadena Chapter President Allen Edson, community members were able to learn about Pasadena's Black heritage.
Starting at the NAACP Pasadena branch headquarters, riders were taken through the streets of Lincoln Ave, Raymond Ave, and Old Town Pasadena among many other neighborhoods. Many early Black Pasadena natives arrived in the 1800s to escape the Jim Crow laws of the Deep South but were still faced with discrimination and segregation. Pasadena was a city of hope for Black families to build their wealth, provide better education for their children, and really build the generational wealth of their community.
Pasadena was a majority-Black city before the building of the 134 and 210 freeways, and when these freeways came along, many White people began to infiltrate because of this new connection to downtown Los Angeles. With this new build, Pasadena became increasingly segregated over the years causing the displacement of the Black, Mexican American, and Japanese population.
In the late 1960s and 1970s, thousands of people living in Pasadena's central and northwest neighborhoods were forced to move or sell their homes under eminent domain. These "urban renewal" plans left many families with no choice but to uproot their lives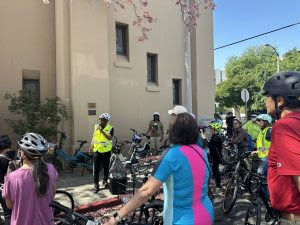 From left are Darlene Hampton, Janet Mubarak, and Andrea Grace at headquarters before the ride. (Denver Mackey/L.A. Sentinel)
Outlining how these infrastructure projects affected her family, Pasadena native Carmen Mackey said, "My Grandmother Ruby was a single mom with six children living the American dream of being a homeowner in a lovely safe California neighborhood. She was one of many Black women domestics for White families in Altadena.
"She saved her hard-earned wages, bought a beautiful Spanish-styled home on Forest Avenue only to taken away by the State of California. Sadly, in the early 1960s, my grandmother's story was very common and profoundly heartbreaking. Currently, many unsuspecting older Black residents continue to sell their beautiful historic homes – a gentrification goldmine for White buyers," noted Mackey.
During the 210 freeway's construction, the White residents of Southeast Pasadena rallied to keep the freeway out of their neighborhoods, leaving the Central and Northwest Pasadena residents with few options when the route plowed through their neighborhoods instead, forcing them to move north towards Altadena.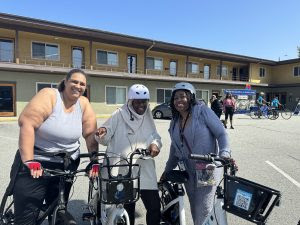 Allen Edson gives the history of Friendship Baptist Church located at 80 W. Dayton St. in Pasadena (Denver Mackey/L.A. Sentinel)
Stopping on Lincoln Ave., Edson explained that "after the freeway, many Black people got pushed up towards Altadena, and could barely go south, east or west of Woodbury Road without experiencing racism and violence." In the late 1970s and 1980s, the crack epidemic affected Pasadena and increased racial turmoil as well.
While Pasadena has endured the repercussions of racism, displacement, and gentrification, the city still has many legendary landmarks that will always be true beacons of the presence and rich history of Black people in Pasadena. Some of the landmarks visited on the ride included Friendship Baptist Church, founded in September 1893, one of the oldest congregations in the area.
When the church was built in 1925, it became the first African American Baptist Church in Pasadena. The creation of this congregation was incredibly special being that churches were some of the only safe havens for Black people to come together during segregation. Edson even added that he had the honor of seeing Dr. Martin Luther King Jr., speak at this church before his death.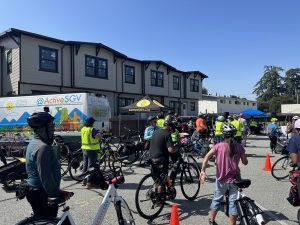 Community members participate in beginning remarks before ride. (Denver Mackey/L.A. Sentinel)
Hotel Carver, another notable landmark on the ride, is the first Black-owned hotel in Pasadena. It was named after George Washington Carver and served as a hub for the Black community, which also featured Onyx Club, later named Club Cobra, where many famous jazz musicians such as Clora Bryant and George Morrow played.
Along with these iconic sites, many notable Black people have come from Pasadena including renowned writer Octavia E. Butler, baseball icon and John Muir alumni Jackie Robinson, inventor George Edward Alcon Jr., and Loretta Thompson-Glickman, Pasadena's first Black mayor.
Pasadena's rich Black heritage will forever be the foundation for what the city has become today and should never be forgotten.
Active SGV hosts this African American History of Pasadena ride every second Saturday of the month. Check out their events here for more information